HUGE LEAP FOR HOMEOPATHY!!!
KARNATAKA CM SANCTIONS 30 HOMOEOPATHIC DISPENSARIES THROUGH EFFORTS OF DR. B.T.RUDRESH.
BANGALORE: Shri. Siddaramaiah, Hon'ble Chief Minister of Karnataka announced, on 25th October at a function held at the Grand Ballroom of Hotel Lalit Ashok that 30 homoeopathic dispensaries will be opened in the state during the current year.
He was speaking at a function organised to celebrate the telecast of 100 episodes 'Ayur Ayassu – 100', a health based program by Dr. B. T. Rudresh, renowned homoeopathic practitioner and President of Karnataka Board for Homoeopathic System of Medicine on Zee Telefilms Pvt Ltd.
Complimenting Dr. Rudresh for his efforts to disseminate awareness of homoeopathy through the popular media and reaching out to the public through simple and effective communication, the Hon'ble Chief Minister said he was impressed with the progress that homoeopathy has made in treating many chronic conditions.
Speaking on this occasion, Shri. U. T. Khader, Hon'ble Minister for Health and Family Welfare, Government of Karnataka praised the services rendered by the homoeopathic doctors in general and Dr. B. T. Rudresh in particular. He promised all support from the government side for the development of homoeopathy in the state.
Dr. B. T. Rudresh made a personal appeal to the Hon'ble Chief Minister and Hon'ble Health Minister for their support to develop homoeopathy in the government sector. Stressing that reaching the goal 'Health for All' would be not only difficult but meaningless unless homoeopathy gets an inclusive position in the health policies and the budget, he requested the Hon'ble Chief Minister to sanction at least one homoeopathic dispensary for every taluka in the next budget.
Celebrating 100 episodes 'Ayur Ayassu – 100' on Zee Telefilms. Seen are Dr. B. T. Rudresh and President of Karnataka Board for Homoeopathic System of Medicine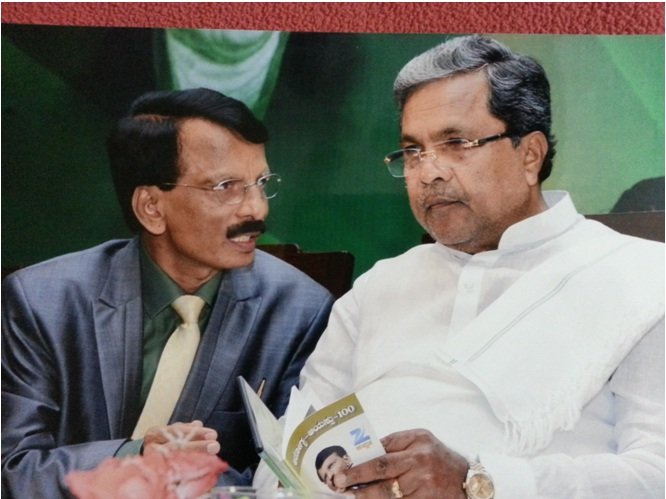 Complimenting Dr. Rudresh for his efforts to disseminate awareness of Homoeopathy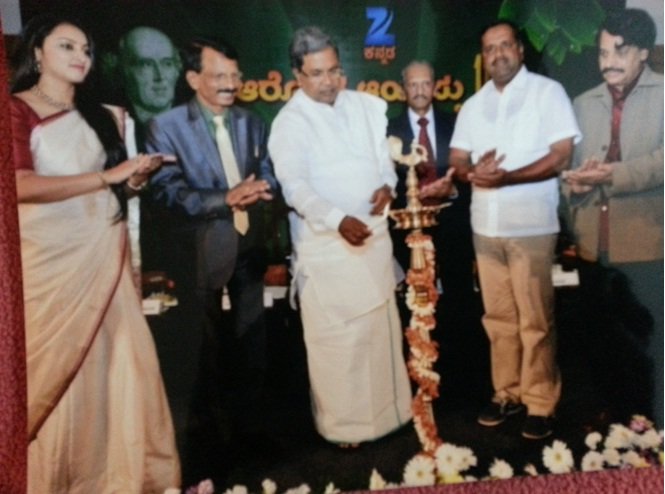 Lamplighting at the hands of Shri. U. T. Khader, Hon'ble CM, Karnataka