SCOPE OF HOMEOPATHY IN TREATING INCURABLE CONDITIONS: PROF. DR.SHAH
....Special Workshop on Application of software in Homeopathic Practice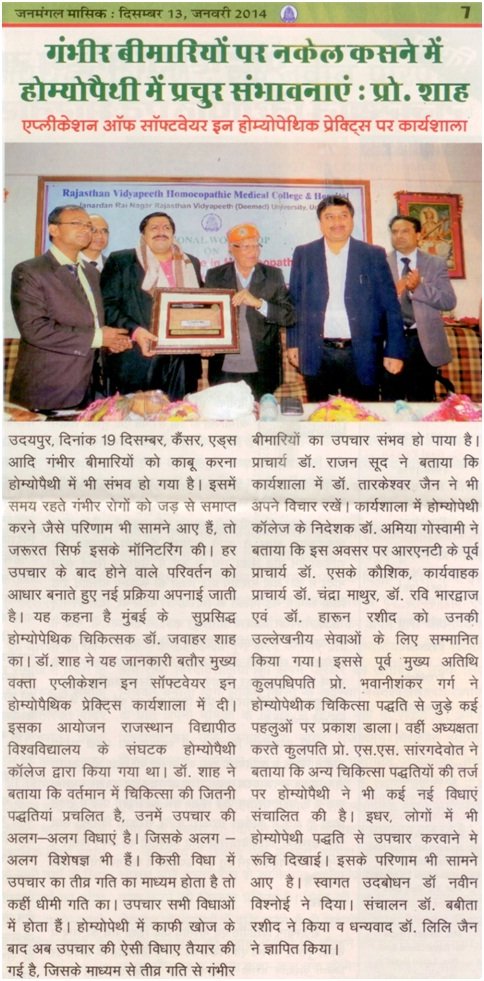 Udaipur, date 19th December 2013– Workshop on role of Homeopathy in incurable diseases and application of software in Homeopathic practice was held at Rajasthan on 19th December 2013. The workshop was organized by Rajasthan Vidyapeeth Homeopathic Medical College & Hospital. Dr. Jawahar Shah, himself a legend in the homeopathic domain explained the scope of Homeopathy in treatment of incurable diseases like Cancer and A.I.D.S. He also mentioned that regular monitoring played huge role in treating difficult conditions.
Dr. Shah emphasized on the utility of software which helps the Homeopath to boldly and confidently venture into new, unchartered territory and expand his horizons beyond the usual limits. He gave valuable information on application in software in homeopathic practice. He also mentioned that nowadays there are different schools of prescribing in Homeopathy by different pioneers. He clarified on recent research studies and describe efficacy of Homeopathy with different schools of prescribing in treatment of serious, incurable illnesses.
Dr. Amiya Goswami also spoke on strength and power of Homeopathy. Chief Guest and Chancellor Prof. Bhavanishankar Garg spoke on homeopathic treatment and explained the efficacy of homeopathy. On this occasion RNT's Former Principal Dr. S.K.Kaushik, Principal Dr. Chandra Mathur, Dr. Ravi Bharadwaj and Dr.. Haroon Rashid were felicitated for their invaluable contribution in Homeopathy. Dr. Naveen Bishnoi welcomed all the respected dignitaries. The whole ceremony was anchored by Dr. Babita Rashid and Dr. Lilly Jain gave vote of thanks.