Sahitya Sangam News Report 2014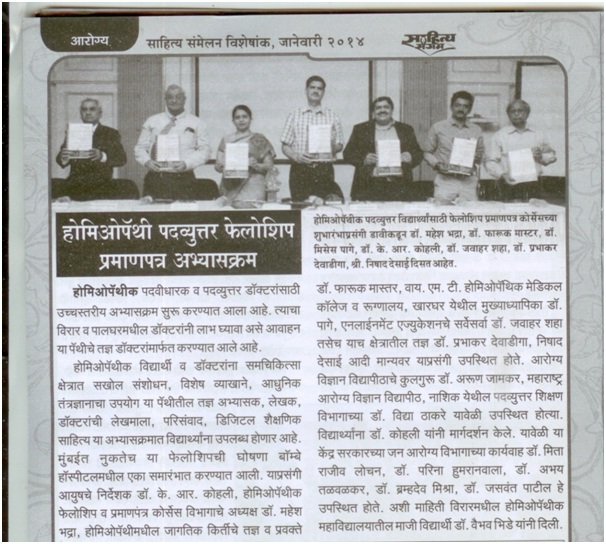 The Certificate and Fellowship Courses in Advanced Homeopathy have been started with affiliation to and approval from the Maharashtra University of Health Sciences (M.U.H.S.), Nashik.
The Courses were inaugurated at the hands of the Honorable Dr. K.R. Kohli, Director of AYUSH, Government of Maharashtra, at S.P. Jain Auditorium, Bombay Hospital, Mumbai on the morning of January 5, 2014.
"Our primary mission is to provide every homoeopath, living in the remotest corner of the country, the opportunity to learn from a wide variety of masters and to continue to upgrade their knowledge so as to bring out the best in them professionally," said Dr. Jawahar J. Shah, Director of Enlightenment Education, when quizzed about both Courses.
Several illuminaries also graced this important event in the history of homeopathic education, including Dr. Parinaz Humranwala (renowned author and homeopathic physician), Dr. P.P. Page (Dean-Principal of Y.M.T. Homeopathic Medical College), Dr. Farokh Master (eminent international teacher and homeopath), Dr. Prabhakar Devadiga (Head of Deparment of Organon of Medicine at Smt. C.M.P. Homeopathic Medical College), well-known homeopathic physicians Dr. Jaswant Patil (M.D. Cardiology) and Dr. R.S. Barve (Research Fellow), Dr. B.R. Mishra (Ex-Principal of Virar Homeopathic Medical College) and Mr. Naishadh Desai (Philanthropist).
Read about this grand inauguration ceremony in the January 2014 issue of the leading Marathi magazine 'SAHITYA SANGAM'
The information of Inauguration Ceremony of FCAH & CCAH is provided to PUNYANAGRI by Dr. Vaibhav Bhide.